WHARF CARTAGE FCL, BREAKBULK, PROJECT
& GENERAL FREIGHT SERVICES
We are a "Reliable, Genuine, Old school customer service driven business".
Seeking to expand and strengthen long-lasting relationships with clients new and old.
Our goal is to improve your overall supply chain system and help increase your profits by offering both short and long-term contracts with competitive pricing schedules.
You will experience a dedicated and enthusiastic team able to conquer any challenge big or small.
If you are seeking a high level of SERVICE, you have found it.
Streamline your businesses Transport & Logistics operations now!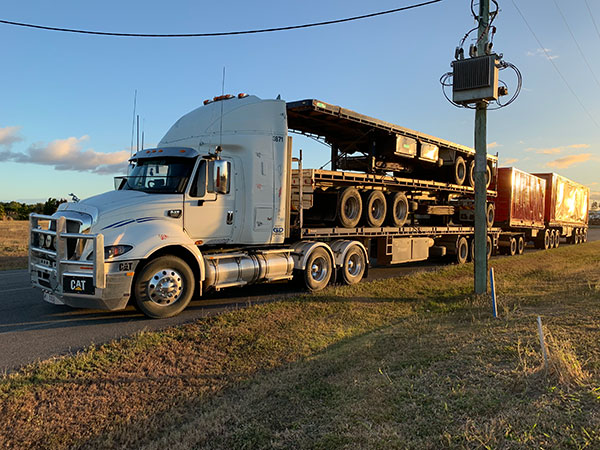 At Container Cartage, we are driven by our commitment to delivering uncomplicated and consistent transfers supported by brilliant client care. Our business model incorporates the latest technology and good old-fashioned customer service. We have the outreach to service the whole of Australia.
We take great pride in what we do as we invest time with selecting the right road freight options for you. Our staff and procedures ensure a smooth transition is achieved while handling your cargo. Combined with knowledge, experience and state-of-the-art technology, we deliver on our promise and offer exceptional services.
We can provide competitive rates for all modes of transport right across Australia due to our large network of partners. Over many years we have built strong, long-standing relationships with reliable alliances across road, rail and sea, providing cost effective and timely freight forwarding for a wide range of cargo types. Giving you have the flexibility to choose from a wide range of freight forwarders and logistics providers. Our partners rely on our business practices, and therefore we choose only the most exceptional service providers.
Our main goal is to give you the most efficient and cost-effective transport services available in Queensland.
We have a diverse fleet of trucks and vehicles. Providing fast and reliable freight forwarding services for almost anything, anywhere. Be it transporting heavy haulage down to small loads, our vast fleet network offers you same-day or next-day delivery services. Our services range from transporting loads from Brisbane to Southeast Queensland regions regularly and further when required.
Your goods are safe with our fleet of vehicles and experienced drivers. Not only at Container Cartage, do we follow stringent compliance regulations, our operational programs give you a real-time view of where your items are at all times. Our fleet also operates seamlessly with a range of warehousing and distribution services. This allows us to offer superb inventory control and shorter transit of your consignments.
We use state-of-the-art technology to streamline your distribution of goods along with streamlining our operation. Providing full transparency of your inventory wherever it moves.
Sign on glass, electronic POD's and tracking technology has been introduced through Freight Tracker. 
These systems allow us to give you precise locations of your consignment at any given time.
The system also provides superior accurate information about the delivery time estimates.
Your goods are safe with us, whether you are transporting them within Australia, or importing and exporting to the far reaches of the world. We will ensure your containers and pallets are properly packed, secured, and custom-cleared to freight intrastate, interstate or worldwide.
Our entire process is completely transparent and gives you greater control over your valuable stock.
At Container Cartage, we believe in building long-lasting relationships with our clients. We offer both short and long-term contracts. You also get noteworthy flexibility, and competitive pricing. Our goal is to improve your overall supply chain system and help you increase your profits.
Streamline your business's freight forwarding operations now!