Freight Company Australia - Transport & Logistics Specialists
Container Cartage supply an innovative transport service, we have the road freight expertise and capability to optimise the logistics requirements of your business.
If you're looking for a trusted freight logistics partner in Queensland, there are many great reasons to choose us.
Whatever you need to transport, and wherever it needs to go, we can quickly and safely get your goods to their destinations.
We provide an unequalled logistics solution by always exceeding customer expectations. The goal of our customer service is to provide the highest quality service available.
More than just a logistics provider, we are a very valuable asset in future growth. We see ourselves as an extension of your business and a leader in specialised logistics and transportation services.
We consistently earn and keep our customers' trust and confidence, through industrious efforts driven by the teamwork, innovation, and the integrity of our staff.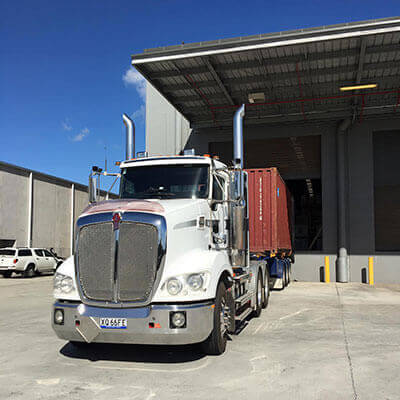 ROAD TRANSPORT ISN'T YOUR EXPERTISE, IT'S OURS.
In this modern age, the success of your business and ours relies heavily on the effectiveness and strength of the complete supply chain. Communication, cost efficiency, speed of delivery, and consistent high service levels creating a definite competitive advantage.
We appreciate that you're an expert in your field: you have honed skills, expertise, and proficiencies improving your company's position in the marketplace. Your knowledge of clients, goods and demands will only be enhanced when you utilise our services.
We are also experts in our field. Our team consists of skilled employees and partners enabling us to deliver consistent value and dependability to all our customers, large and small. We are dedicated to the quality of our work and our service.
Allow CONTAINER CARTAGE to share our industry expertise, to improve your transport requirements and help grow your business further. It's our business to understand logistics, we know just about everything there is to know about Road Transport in Queensland, with a diverse fleet of vehicles available to provide a complete road freight service package. Transportation of goods is not limited between Brisbane, the Gold Coast and the Sunshine Coast regions, we also have the resources to deliver anywhere across Australia.
When your businesses global reach extends beyond the country, our specialist expertise and international network of trusted alliances will support you to expand and streamline your distribution to the rest of the world.
HIGH QUALITY EQUIPMENT FOR HIGH QUALITY DELIVERIES
Investing in technology and innovation to provide solutions, which will ultimately lower costs and increase efficiency for our clients and the environment. Operating the fleet of modern vehicles, we ensure they are maintained purposely for the punishment of Road Transport. Not only do we operate within the Brisbane Metro, South east Queensland and Eastern coastline regions of Australia, we also provide transportation to remote and isolated locations. Servicing the mining, oil, gas, power, rail, construction and general freight sectors Australia wide, deliveries anywhere from 1 kg to 130 tonne and above.
HOT SHOT DELIVERY, ANYWHERE, ANYTIME, READY
For the freight that just must be onsite NOW due Breakdowns or Shutdowns, ensuring the operational schedules of the PROJECT continue to reach target. We don't just have quality mechanical equipment; we are fortunate to have highly experienced trained staff. Our resourceful team can provide you with extremely efficient delivery services. No matter the time, we are always ready to travel as you require, direct from pick-up point to the delivery point. Transit times and estimated time of arrival will be provided, regardless of how great the distance to be traveled. We follow legal driving hours and speed limits to complete the movements with supreme urgency.
INTEGRITY, RESPECT, PRIDE & COMMITMENT
Demonstrating a high level of integrity, we will always stand by our word a trait that will stand the test of time.
Our number one goal is satisfying our customers' needs and honouring commitments that we have made. We value and recognise that our customers' needs are important, and we are nothing without your support and business. We show pride, enthusiasm and dedication in everything that we do. We are committed to delivering the highest quality service available. Respect from our customers, our competition and our staff are a high priority to the business values.
Our reputation depends on our track record of reliability and safety. Keeping our vehicles on the road with a great maintenance program, ensures general repairs are completed with minimum disruption to our service delivery requirements. Utilising qualified and competent tradespersons such as mechanics, boiler makers, fitters, our equipment is regularly serviced and maintained to a high standard.